School of Economics
School of Economics
English-based Degree Program: N/A
Location: Nagoya Campus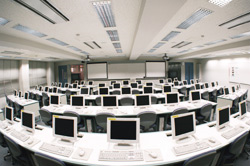 Department of Economics
The economy has been changing drastically in recent years. Globalization has advanced and the economies of different countries are highly interdependent. Large amount of funds move instantaneously beyond borders, greatly affecting national economies. It has become increasingly necessary to train individuals to have a global viewpoint along with a keen analytical ability about different fields in economy. The School of Economics sets the educational goal of training students with an international perspective and knowledge in the specialized fields and with outstanding theory and practice sense, and the education program prepared by the School with the outstanding professors of wide-ranging fields will achieve this purpose.
Effective Learning through a Step-by-Step and Systematic Curriculum
The undergraduate program in the School of Economics has adopted a new curriculum system consisting of specialized and generic skill courses. Specialized courses offer subjects on specialized knowledge and theory of economics. The School aims to enhance the basics of economics and has created a systematic curriculum building from basic to key courses, developing in stages, in order for students to accurately understand economic structures. In the first year, students take the Introductory Seminar, Introductory Macro Economics and Introductory Micro Economics, moving on to key subjects centering in economics and developing into specialized fields including economic analysis, policy and international economy, selecting specialized subjects.
Efficient Acquisition of Specialized Fields through the Requirement Model System
The School of Economics provides 3 course models--the Economic Analysis model, the Policy model and the International Economy model--as a guide so that students can systematically learn and research the specific field of their choice. These models provide examples of the subjects to be chosen for the 4 years of study from the specialized and generic skill courses best suited for each student's interest and future goals. The models are used as reference for students to select the courses best suited to the career path they have set out for themselves. A course counseling session is held, during which teaching staff offers individual advice to students on how to select subjects at enrollment and when moving up to the next year.
EXP Subjects Aiming to Develop Economic Leaders
The generic skill courses are another pillar of the program. Courses include Information Literacy, Academic Writing, Language Skills, Overseas Experience, and the Executive Program (EXP). The EXP specifically aims to develop students into individuals with the capacity to become corporate executives and high-ranking government officials, providing curriculum that will enhance basic skills required in business such as creative thinking, self-initiative, teamwork and communication skills. Students are expected to acquire wide-ranging skills that allow for the utmost use of specialized knowledge and theories learned in their study in economics.