Message from the Chancellor and Chairman, Board of Trustees, UMEMURA Educational Institutions, and President of Chukyo University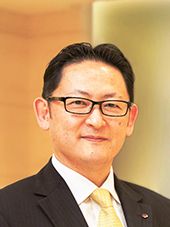 In 2023, UMEMURA Educational Institutions will celebrate the 100th anniversary of its foundation. A Celebration Executive Committee for the 100th anniversary was inaugurated in May 2016 to begin fundraising, and a compilation of the history of the institutions along with other memorial projects was begun. We will never cease in our goal of making an extensive and lasting contribution to society as educational institutions based on the spirit of our foundation, "focus on excellence in both learning and sports" as well as our school motto Shin-Ken-Mi(真剣味).
The history of UMEMURA Educational Institutions started in 1923 with the foundation of Chukyo Commercial High School, known as Chukyo University Senior High School today. Chukyo University is a core institution with a commitment to nurturing a new generation of students to meet the demands of a changing society. As of April 2018, Mie High School, Mie Junior High School, and Umemura Kindergarten in Matsusaka city, Mie Prefecture, are members of the newly founded MIE HIGH SCHOOL Educational Institutions. The latter aspires to provide locally based education for smart governance. UMEMURA Educational Institutions and the new institutions have concluded a comprehensive agreement that will reinforce the relationships between the two institutions.
Shin-Ken-Mi, our school motto upheld by the founder Seiko Umemura, comes from the traditional chivalric philosophy of Bunbu-Fuki(文武不岐). This philosophy, which holds that traditional academic studies and military art are inseparable, formed the spirit of the foundation of Kodokan, the Mito clan's school in the feudal domains, Mito city, Ibaraki Prefecture. By the end of the Edo period, Kodokan was the largest domain school, offering a varied educational curriculum, much like universities nowadays. The academic tradition called Mitogaku which was taught there influenced a group of Japanese political activists of the time. Two generations starting with Seiko Umemura, studied at Kodokan.
The characteristics of Kodokan education are consolidated into three disciplines: foresight, practicability, and international perspective. These disciplines are also incorporated in today's UMEMURA Educational Institutions. As a part of the anniversary projects, we concluded an agreement of cooperation with Mito city government office in November 2016, in the field of education and sports.
Chukyo University has been carrying out its long-term plan of organisational reform, NEXT 10, since 2014, the year of the 60th anniversary of the university's foundation. NEXT 10 aims to raise standards of education and research in order to enhance our contribution to society and nurture graduates with an international outlook. Along with Chukyo University, Chukyo University Senior High School offers 7 years of continuous, globally focused education based on its mid-term plan. As we step forward to create new values in a spirit of continuous reformation, UMEMURA Educational Institutions and all of its staff will continue to make improvements in anticipation of our 100th anniversary.