School of Policy Studies
School of Policy Studies
English-based Degree Program: N/A
Location: Nagoya Campus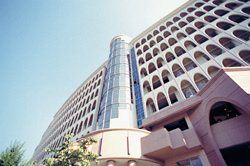 Department of Policy Studies
The School of Policy Studies helps students gain broad knowledge in social science and develop the basic skills needed to plan, propose and implement business or public policy. The school places a priority on the basics of social science education, including law, political science, economics and business administration, and their application skills to research projects, as well as practical training for career design, English conversation and information processing.
The school expects its students to develop a level of competence in 4 years of training that will empower them to play active roles in a broad range of possible careers in business, government, and public administration.
Broad Social Science Education
First- and second-year students learn the basics of law, political science, economics and business administration in the field of social science. First-year students are required to take basic practical subjects such as English conversation and information processing. In the second year, students select and focus on their own specialties. The curriculum is arranged so that students can shift smoothly from the first 2 years of basic training to the last 2 years of specialty training.
Practical Specialized Education
In terms of specialized education, students can choose either business policy or public policy, or both, depending on their future needs.
Specialized education features research projects in the second to fourth year. Second-year students complete preparatory training and begin full-scale research projects in their third year. In the course of this training, students are required to participate in discussions with their seminar professors, to identify and analyze problems, present solutions to those problems, and acquire skill to present their findings. At the end of the fall term of the third year, presentation session will be held where project leaders make presentations of their research in front of judges invited from outside the university.
Diverse Learning Opportunities
Chukyo University is a comprehensive university with 11 schools covering the humanities, social science, natural science and engineering. The School of Policy Studies offers a curriculum that is linked with the other schools of social science: the School of Contemporary Sociology, the Faculty of Law, the School of Economics, the School of Management and the School of International Liberal Studies.
In addition to the regular curriculum, the school offers diverse learning opportunities including enhanced office hour programs with instructors, courses designed to assist students taking qualification exams and special lectures by guest speakers. Students are expected to actively take advantage of these learning opportunities.