School of Management
School of Management
English-based Degree Program: N/A
Location: Nagoya Campus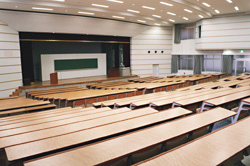 Department of Management
The School of Management was established in 1991, separating from the former School of Commerce in which it had been a department. The school aims to develop exceptional human resources, with both specialized knowledge and practical skills in business management, who can become leaders in today's internationalized and IT-oriented world.
The curriculum is designed to aid students in acquiring basic and expert knowledge, together with a range of skills essential to modern management. Students will also learn how to recognize and resolve business-related problems and develop their communication skills. The courses are taught by professors characterized by their outstanding research achievements, wide practical experience, and a passion to help students.
Curriculum in Line with the Actual Business World.
The faculty of Management offers education focusing on practical knowledge and application skills required in the actual business world, incorporating both management theory and technique. A curriculum has accordingly been developed that draws out the interest and potential of students, and that meets the needs of the modern business world. It is based on the following:
Enhancing fundamental skills. There are special programs designed to develop the essential basic skills needed in business, including computer techniques, bookkeeping and accounting skills, and English ability. A specifically-designed course helps students to achieve the high TOEIC scores required by globalized companies.
Acquiring professional knowledge. The curriculum is divided into three fields: Corporations and Strategy, Organization and Management, and Accounting and Finance, with diverse theoretical and practical courses in each field. There is a systematic program of classes in which basic subjects lead progressively to more advanced courses so that students new to the topic will easily be able to progress.
Developing problem-recognition, resolution, and communication skills. The first year focuses on courses in the fundamentals all students need to know, but the central focus of the second to fourth years lies in the specialized three-year seminar sequence offered by each faculty member. The seminars are all small classes, with active participation by all members, and culminate in a semester-long graduation research project. This experience helps students to acquire, practise, and demonstrate the skills needed to succeed in business.
Providing Learning Opportunities and Integrating Theory and Practice
In addition to lectures and seminars, the School of Management offers a wide range of accredited programs and activities to extend the skills learned in the classroom. These include internships, support for certification examinations (including the civil service, bookkeeping, IT passport, CPA, and other examinations), and both short- and long-term overseas study programs. The overseas study programs are aimed at improving not just language skills, but also intercultural communication skills. All incoming freshman attend a 2-day 1-night orientation retreat with the faculty before classes begin. All faculty members have office hours set aside, a time when students can meet freely with professors.
Over 90% of students choose to take part in one of the three year seminar courses offered by each faculty member on a topic within his or her own specialty. In these seminars, students typically take part in discussions and give presentations of their own work, the discussions often continuing at evening gatherings and weekend retreats. Attendance at a seminar orientation session held during the fall term is mandatory for all first year students. A course advisor system helps students encountering grade or credit difficulties to optimize the quality of their academic experience.