School of Law
School of law
English-based Degree Program: N/A
Location: Nagoya Campus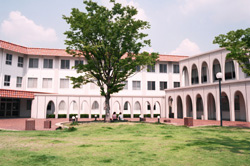 Department of Law
The School of Law has existed over 50 years since its foundation in 1966.
The School of Law encourages students to acquire a "legal mind" that will allow them to take an overall look at problems in society and to handle and resolve such problems appropriately based on the rules and principles of law. With a growing awareness of legal matters in current society, there is a great demand for individuals who can handle and resolve problems in accordance with the law. The School of Law provides programs in Japanese for students to acquire such legal knowledge and legal spirit.
Flexible Curriculum
In the first year of study, students take the introductory course: Introduction to Law and Politics. In this course, the Faculty explains the Constitution, civil law, criminal law and political science in an easy-to-follow manner. By taking this course the students should acquire the foundation for further study into more specialized subjects.
Students are able to choose from three major programs of study and six sub-programs depending on their interests and future career plans. The legal professional program is designed for students who want to proceed to law school to become attorneys or public prosecutors. The business program is for students who want to work for private enterprise. The government employee program is intended for students who want to become national or local government officials, teachers, NPO employees, administrative assistants, etc. Each program is subdivided so that students can choose the path most suited for their future goals and students will gain professional knowledge in the field of their choice.
Enhanced Learning Environment
The faculty of law is comprised of many researchers who are active in the academic and judicial field, including Constitutional law, civil law, criminal law and political science. They also range widely in age which makes for a well-balanced organization and a friendly learning environment.
The Law Library Center (LLC), adjacent to the building where classes are held, has a large collection of books and materials on law and political science used by many students.
Friendly Campus
Unlike other schools, the Faculty of Law forms a unified campus behind Yagoto Koshoji Temple with rich greenery. Students are provided with a quiet study environment. Small group seminars are offered from the first year so that students can acquire knowledge and foster a well-rounded character.
Special facilities are also available for students studying for junior and senior high school teachers' credential examinations: The Quiet Study Room, Data Room for Qualification Exams, and a Study Room for Educational Tool Research.