School of Law
School of law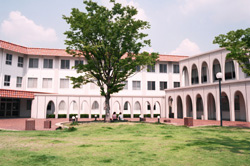 Department of Law
The School of Law has existed over 50 years since its foundation in 1966.
The School of Law encourages students to acquire a "legal mind" that will allow them to take an overall look at problems in society and to handle and resolve such problems appropriately based on the rules and principles of law. With a growing awareness of legal matters in current society, there is a great demand for individuals who can handle and resolve problems in accordance with the law. The School of Law provides programs in Japanese for students to acquire such legal knowledge and legal spirit.
Flexible Curriculum
The School of Law offers three pillars to hold up a solid achievement from admission to graduation for students.
The first pillar is the stable foundational education. Students take the introductory subjects before studying the specialized subjects, such as "Introduction of Law","Introduction of Civil Law","Introduction of Criminal Law","Introduction of Politics","Introductory Seminar". By taking these introductory subjects, students should acquire the foundation for further study into more specialized subjects.
The second pillar is the advanced practical education. Students take more specialized subjects to practice the legal mind and knowledge gained by foundational education, including not only various kinds of specialized subjects about Law and Politics, but such as "Legal Practice Program Lecture","Forefront Study Lecture","Basic Seminar","Legal Practice Program Seminar","Advanced Seminar", "Graduation Thesis". By taking these specialized subjects, students will cultivate the practical skills on how to use law in society.
The third pillar is the plentiful job-seeking supports. The Support Committee for Law Students set up by the School of Law provides various job-seeking supports in cooperation with organizations within the university, such as Qualification Support Center, Career Support Department and International Center. As a result, the School of Law maintains a high pass rate especially in government employment examinations. By taking "Introduction to Career Development", students listen to many experiences and advices from persons who are active at the forefront of society or senior students who passed the government employment examinations or influential private enterprises, and will master opportunities and tips on how to do in job-seeking.
Enhanced Learning Environment
The School of law is comprised of many researchers who are active in the academic and judicial field, including Constitutional law, civil law, criminal law and political science. They also range widely in age which makes for a well-balanced organization and a friendly learning environment.
The Law Library Center (LLC), adjacent to the building where classes are held, has a large collection of books and materials on law and political science used by many students.
Friendly Campus
Unlike other schools, the School of Law forms a unified campus behind Yagoto Koshoji Temple with rich greenery. Students are provided with a quiet study environment. Small group seminars are offered from the first year so that students can acquire knowledge and foster a well-rounded character.
Special facilities are also available for students studying for junior and senior high school teachers' credential examinations: The Quiet Study Room, Data Room for Qualification Exams, and a Study Room for Educational Tool Research.