School of Health and Sport Sciences
English-based Degree Program: N/A
Location: Toyota Campus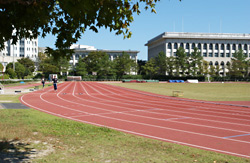 The School of Health and Sport Sciences was renewed and established in 2011 in response to the recent expansion of sport-related markets, and the diversified and complex needs of the public. Based on research and education conducted over half a century by the predecessing School, new possibilities in sports are being pursued through comprehensive and specialized research and education that extend into the humanities, social sciences and natural sciences. Utilizing a network of the faculty and alumni active in Japan and worldwide, the School strives to fulfill its role as a comprehensive and a global center for sports academism that fuses knowledge and practice.
Department of Sport and Physical Education
What we gain through sport is not limited to direct results, such as improved competitive skills and strength. Sports are deeply associated with individual character building and motivation in life, and play an important role in maintaining a vibrant society. Particularly during the stages of growth, sports promote intellectual development and the well-balanced healthy development of mind and body. Children learn the value of exerting effort towards self-actualization and the importance of respecting others.
One of the features of the Department of Sport and Physical Education is its fulfilling practical curriculum. Students are provided with major practical courses (17 sports) designated in the curriculum guidelines set forth by the Ministry of Education, Culture, Sports, Science and Technology, to acquire the ability to provide practical lessons suitable for each developmental stage of growth, the ability to coach extracurricular sport activities, as well as examining the role of sports in school education. The curriculum also specializes in developing teachers with a special program to enhance teaching ability in schools and program to prepare for elementary school teaching credential. Making full use of the experience of the former organization, the School of Physical Education, which placed importance on the fostering of teachers for Health and Safety Education, the Department aims to develop well-balanced teachers with qualities that enable them to be entrusted with the future of children, and with knowledge, understanding, teaching ability, educational ability, and practical skills.
Department of Sport Science
In order for athletes to perform successfully in international competition, scientific instruction and advice, such as effective and efficient physical and mental training or health maintenance coaching for mind and body that leads to the best performance are essential. Therefore, the Department of Sport Science offers wide ranging and comprehensive foundation in sport science, including medicine, health science and anatomical physiology, developing into a systematic curriculum with combined theory and practice according to individual objectives.
Experience and knowledge accumulated through highly competitive sports coaching situations are reviewed from a scientific perspective that enables students to acquire a higher level of expertise. The Department aims to foster human resources that are successful not only in the sports industry, but also in a wide range of other fields with expertise fusing acquired scientific vision and a broad-based knowledge, and high levels of self-management and communication skills obtained during the practice of competitive sports. The department offers two programs: sport science with a heavier weight placed on the practice of competitive sports and coaching techniques, and sports management with a heavier weight placed on management theory and the skills required in the management of sports-related organizations and facilities.
Department of Health Science
As people have become increasingly concerned about health, the expectation and need for sports have increased significantly. However, the effects or risks of sports on the mind and body do not seem to be fully understood. At the Department of Health Science, students undertake extensive research on the relationship between sports and health from a scientific viewpoint, including medical, psychological and sociological perspectives. The Department aims to foster human resources in various fields to help contribute to the development of a health-conscious society as, for example, sports instructors focusing on the promotion of health in lifelong education and for challenged individuals, developers of health-themed products and services, and health administrators at companies or public institutions. From the perspective of health science, the Department strives to develop human resources with skills that support sports performance.
The curriculum provides a wide range of transversal study of health science. After acquiring broad knowledge and scientific basics, students may select programs best meeting their future goals in public sanitation, rehabilitation, sports medicine and other specialized fields, enabling students to acquire expertise in a step-by-step manner. By taking practical courses, students understand the effect of sports on their own bodies which enables them to acquire skills to put their knowledge into practice.