School of Psychology
English-based Degree Program: N/A
Location: Nagoya Campus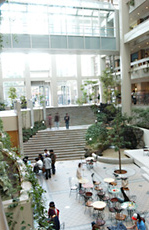 Department of Psychology
Founded in 2000, the Department of Psychology has been renowned for its excellence in teaching, empirical research, and clinical practices. Currently we have 18 faculty members, each of whom is specialized in one of four areas: experimental, applied, clinical, and developmental psychology. This balanced structure allows us a unique approach for undergraduate education, in which students gain not only textbook knowledge but also hands-on practical experience to learn psychology in its entirety. Experimental laboratories are equipped with cutting-edge facilities such as wearable eye-trackers, electroencephalography, psychophysiological measures, and virtual reality simulators. Technical and monetary supports are provided for all students who conduct large-scale web-based surveys. Workshops are organized for students who learn real-world applications of psychology to community-based child care and/or industrial risk management. Applicants who wish to become a licensed psychologist will be able to complete the necessary and sufficient program to continue further training in the graduate school. With these abundant educational resources, we welcome all international students who have a keen interest in the science of mind and behavior.
A solid foundation through the overall study of psychology during the first and second years
Education in the fundamentals of psychology, as well as liberal arts and language education, is emphasized in the first two years. Students take "Psychology" from the general education curriculum and "Introductory Psychology", a required subject for the department, to lay the groundwork for the study of psychology, so that students may proceed into the field of their choice .
The curriculum for first- and second-year psychology students is designed to build foundations for future studies and heighten interest in psychology. Some of the courses include "Various Areas of Modern Psychology, Statistics for Psychology", and "Seminar on Data Processing for Psychology".
A specialized curriculum made up of diversified courses
With the transition to the semester system, the majority of courses have been converted to two-credit semester courses. In addition to the courses, "Reading Psychological Articles Seminars" are added. Second- and third-year students are required to take the following introductory courses: Experimental Psychology, Applied Psychology, Clinical Psychology, and Developmental Psychology .
In addition to classes specific to the experimental, applied, clinical, and developmental areas, the school provides opportunities to learn not only through lectures but also through practical training and experiments for third- and fourth-year students. Further, students learn research methods in courses such as "Psychology Measurements", "Psychological Assessment", and "Psychological Data Analysis". The course of "Applied Psychology Training" includes a study trip to worksites. Fieldwork training covers the areas of "Clinical Psychology Fieldwork Training" at specially designated guidance classrooms, where children with difficulty adapting to school are being prepared for return to school. The developmental psychology curriculum includes present-day topics such as "Developmental Psychology for Parent and Child, " and "Life-span Developmental Psychology".
Venture overseas
The School of Psychology has a program that enables students to study psychology for three weeks at Griffith University in Australia. Students who have taken advantage of this program often choose to participate in other study abroad programs through several academic student exchange agreements with overseas universities, and some students choose to continue their education at graduate schools in the United States after completing undergraduate studies.