School of Global Studies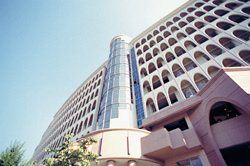 School of Global Studies*
Department of Global Studies
Major of International Human Studies
Major of International Politics
Major of International Economic
Major of Global Liberal Studies
Department of Linguistics and Cultural Studies
Major of Plurilingual & Pluricultural Studies
Major of British and American Studies
The School of Global Studies is a new department starting in April 2020, which provides the students with a composite education on "humanities" and "social sciences" at a global standard.
The Department of Global Studies helps the students accurately understand the current situations of international society and familiarize themselves with a multi-angled range of interdisciplinary topics in order to cultivate competent global leaders equipped with advanced, specialized knowledge and skills for dealing with complex global issues. The Department consists of four majors: the Major of International Human Studies which provides true, cultural and sympathetic competence for deeply understanding the diverse humanities, the Major of International Politics which studies the current situations and initiatives of international politics and society, the Major of International Economics which deal with the national and inter-regional economic and business issues, and the Major of Global Liberal Studies (GLS), an interdisciplinary major for acquiring the broad skills and knowledge of the social sciences and humanities. The Major of GLS is the first among the private universities in Nagoya whereby a degree can be earned in English.
The Department of Linguistics and Cultural Studies develops truly global human resources who can establish, maintain and advance the cooperative relations among diversified groups of global communities as specialists of linguistic culture equipped with an accurate command of languages and wideranged, profound knowledge and discipline. The Department is composed of two majors: the Major of Plurilingual & Pluricultural Studies which cultivates the ability to use multiple languages and understand multiple cultures, and the Major of British and American Studies deepens the understanding about the linguistic, literary, and cultural diversities in English-speaking countries, and thereby develops advanced, specialized capability to use the English language and analytical thinking ability required in global society.