Student Voices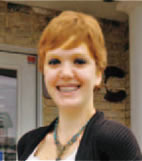 Danielle Haugland
University of Iowa,
USA
Message from Nishio city
I returned to Japan a year after finishing my time at Chukyo University. This time I had the opportunity to work in various locations in the Chubu Region as an English teacher. I started in Gifu City as an Assistant Language Teacher at two local junior high schools. After that I moved to Nishio city in Aichi to expand my abilities by taking a job at a private English language school.
The experiences that I had at Chukyo University have been invaluable for me in my work. The Japanese language skills that I gained have helped me both professionally and personally. Along with language skills, I learned so much about Japanese culture and society that has made it much easier to confidently become interacting in my local communities and meet a wide range of different people. Without these skills I know my time in Japan would have been much more difficult.
I have had many positive experiences that I am excited to continue moving forward with my career. In the future I have decided to pursue more education and start my own company to help give back what I have received.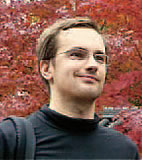 Tero Sivonen
University of Helsinki,
Finland
Message from Kyoto
After entering University of Helsinki, I started studying Japanese language and culture as my minor. After three years, I got the opportunity to take an exchange year in Chukyo University. I studied at Chukyo from September 2011 to July 2012 taking courses on Japanese, international communication and business culture. My exchange year was most mind opening and educating, as well as a fun experience.
After my exchange I immediately found a job at Marimekko in my home town. Marimekko is a famous Finnish fashion and textile company that has gained huge popularity in Japan and China in recent years. Thus my language and international business skills, obtained in Chukyo, played a major role in my engagement to Marimekko.
After a little over a year at Marimekko, I found an interesting internship possibility in Japan and decided to try my luck. I got approved and now, I am currently taking a leave of absence from Marimekko and working for Wakasa Seikatsu in Kyoto. Wakasa Seikatsu is a Japanese health product company famous for its nature substance based products. They import Finnish blueberry to Japan and thus are also engaging in many Japan-Finland cultural exchange projects. I am here in Kyoto to help them with these projects engaging in sales, translation and market research.
Studying an unusual language may open your career to unpredictable and international directions. Be open minded and attentive and I am sure your stream will one way lead to big rivers.