School of Letters
English-based Degree Program: N/A
Location: Nagoya Campus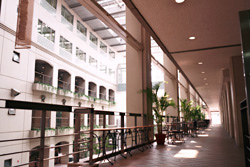 The School of Letters was reorganized in 2003, to divide the Department of Japanese Language and Literature into two new departments--the Department of Japanese Literature and the Department of Linguistic Expressions--which marked the beginning of a new scheme of education and research in the School of Letters.
The Department of Japanese Literature follows the literature of each era from the Nara to the Modern Period, while focusing on an understanding and appreciation of various books along the way, relating them to modern times. Meanwhile, the Department of Linguistic Expressions offers active classes that look into the future from a modern standpoint, analyzing the correct and accurate usage of the Japanese language while helping students acquire skills and knowledge for expression. The curricula of the two departments are set up so that students in either department can take specialized courses interchangeably in order to take advantage of a wide range of learning opportunities.
Department of Japanese Language and Literature
The Department of Japanese Literature's missions is to examine the position of Japanese language and literature within the World Literature, to explore the paths that Japanese language and literature may take in the future, and to help students to become more self-actualized. To fulfill mission, faculty specializing in the classics of the Nara, Heian, Kamakura, Muromachi and Edo Periods help students understand what Japanese literature consists of and pursue studies that are of interest. Moreover, we have full-time instructors in peripheral domains, such as Japanese linguistics and Japanese language education, to enhance the quality of our education. We also collect original texts and classical publications including Otogizoshi (prose narratives written primarily in the Muromachi Period) and military epics in order to deepen specialized knowledge and pass it on to others. These efforts have gained growing recognition in Japan and overseas.
Thus we are committed to improving classes, enhancing curriculum and upgrading the learning environment to help students attain self-realization amidst diversifying values.
Department of Linguistic Expressions
The Department of Linguistic Expressions aims to foster individuals who have an accurate and graceful command of Japanese and can covey their valiant thoughts to contemporary society. These individuals may be described as having both "letters" (literary education) and "substance" (practical linguistic capacity), a variant on the traditionally valued "literary and military arts". As the modern world shifts toward globalization, greater value is placed on individuals with the ability to write properly, plainly and logically in Japanese, in formal documents, such as business reports, to poetic love-letter writing. With this as a foundation, students may pursue literary writing.
In order to achieve such goals, the department offers lectures in a wide range of areas that contribute to the nurturing of expression through language. These areas are composed of the five fields: 1) Theory of the Japanese Language; 2) Practical Japanese for Listening, Speaking, Reading, and Writing; 3) Theory of Culture with a Social Perspective; 4) Japanese Literature as the Base for Modern Japanese Expression; and 5) Courses related to certification for teaching (Japanese Language and Calligraphy) and Librarians, etc. Additionally, our faculty is graced with teachers that are active in an academic sense, but can also boast professionals from the forefront of their fields, including a former newspaper editorial writer, a screen writer, a Kyogen actor, and a calligrapher.
Click here for curriculum