Message from the President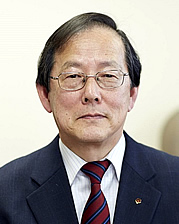 What is University? It is said to be a place where we advance knowledge through research, extend knowledge through education, and preserve knowledge through publishing and communication with society at large. This is what we seek to do. At the same time, as a private university, we abide by the ideals and spirit of our founder. These call for "a focus of excellence in both learning and sports" through the four principles that serve as both universal and particular goals of education: Play by the rules. Do your best. Promote teamwork. Respect your opponent. We strive to realize these principles in our academic research and education.
Today, the university faces a host of difficult and unprecedented issues, and it is not easy to predict what the future holds. To guide us as we move forward, we have launched "Next 10," the policies of our longterm vision for the next decade. This initiative gives top priority to our students and their needs. It focuses not only on"what to do," but also on "how" and "with whom." It asks the faculty, students and staff to do their best in their respective capacities. Do our best! This is not a passive education in which students simply attend class, receive instruction and graduate. It means ensuring that students acquire knowledge and skills in a selfaware manner (progress from "learning" to "studying"), think for themselves, and lead an active student life. We are creating the place where students can develop their abilities and potential and feel challenged on their own. We will also step up efforts to globalize the university.
We will continue to be at the forefront of trends in education, stay true to our progressive tradition of boldly facing challenges, and remain attentive to the world and community around us as we pursue the originality of Chukyo University.