Message from the Chairman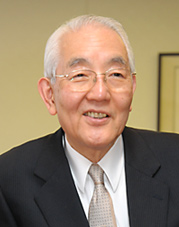 As Japan moves toward the era of universal access to higher education, there has been an increase in applicants seeking above all else a university for "making the most of oneself." Both society and the corporate world are looking with keen eyes at universities with regard to the sort of graduates they produce: What can they do? What abilities do they possess? With educational capability now a significant question, Chukyo University remains a highly desirable destination among high school student applicants, with their numbers increasing compared to the previous year. This is certainly linked to our excellent reputation: our response to modern needs, our reorganized faculties and departments, our maintenance and enhancement of the educational environment, our improvement of curricula and educational systems, and more. Since taking on the position of Chairman this April, my objective with regard to university operations is to ensure we offer an appealing, high quality education. Chukyo University is confident in taking a global perspective, striking a balance between excellence of tradition and energy in innovation, and continuing to move forward towards the educational and research activities most appropriate to a 21st century university.
In addition to 11 undergraduate schools and 9 graduate schools bridging the humanities and the sciences, Chukyo University also possesses a School of Business Innovation and a Law School, and consequently proudly numbers among the largest universities in Japan. In order to respond to society's changing needs, Chukyo University has either reorganized or independently established many new Undergraduate Schools : these include Psychology, World Englishes, International Liberal Studies, Business and Public Policies, Information Science and Technology, and Contemporary Sociology. The School of Health and Sport Sciences has been reorganized this year and has already started to serve as a center for sports academism. Furthermore, in 2013, the School of Information Science and Technology will be reorganized, with the fields of electrical and electronic engineering and mechanical systems added to the existing departments of Information System Technology and Information Media Technology for a total of 4 engineering departments, thus coming to play a central role in cultivating human resources for industry.
It is also important for education to consider the significance of Japan's ongoing internationalization. As a result of increasing the place of overseas study within the formal curriculum, over 600 students are expected to undertake study overseas. Although the number of students with internally-oriented interests is generally increasing across Japan, last year Chukyo University students demonstrated a strong tendency toward externally-oriented interests, with English language lectures in the International Center being highly popular. In order to extend student capabilities further, a Qualifications Center has been established on campus to serve as another site for learning. Offering courses and lectures to help students to acquire various qualifications and to provide support for civil service and teacher's entrance examinations, the Qualifications Center has yielded remarkable results in improving the career skills of students. In 2010, 3 students passed the national Category 1 civil service examination (legal field). Chukyo has produced successful candidates for this exam every year for the last 5 years, with 130 students having been accepted into the principal civil service. Chukyo is proud to rank first in these many fields among private universities in the region; an impressive 44 students over the last 10 years passed the prestigious teacher's examination. Many Chukyo students have reached the top class nationwide in the difficult state examinations: 3 certified accountants (including previous graduates), as well as licensed social insurance consultants, notary publics, registered real-estate brokers, and similar qualifications. The Qualifications Center is a support system that further supplements the educational outcomes of our undergraduate schools.
The future development of Chukyo University takes the long view in planning strategy, based on thorough analysis of current circumstances. One such project for facilities and equipment currently underway is the C-East Development Project, which represents the finishing touch for the Nagoya Campus. The new wing of the library, the first among universities in Japan's Tokai region to include automatic archives, has already opened, and the 2013 completion of the new lecture hall, student plaza, and high-rise C-Tower administrative building will see the emergence of new spaces to enhance student life.
The spirit of Chukyo University is to strive to be "a focus of excellence in both learning and sports." A unique characteristic of Chukyo University is the equal importance of both academic learning and sports, aimed at providing a well-rounded education. At a time when the international situation is increasingly tense and highly competitive, Chukyo University, based on the spirit of its founding, strives to cultivate outstanding graduates with dignity, a strong sense of humanity, and the ability to face and overcome any kind of difficulties and issues, to become society's future leaders.