Message from the President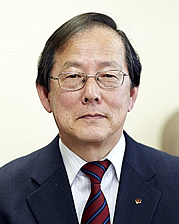 Since its founding in 1954, Chukyo University has changed with the times; and with the establishment in April 2004 of the Law School and the School of Life System Science and Technology, School of Policy Design in 2005, Graduate School of World Englishes and School of Information Science and Technology in 2006, School of Contemporary Sociology in 2007, and School of International Liberal Studies in 2008. -- a continuation of our development as a comprehensive university -- it now has twelve specialities for graduate study, eleven undergraduate schools, and the College of Liberal Arts.
Although the university has never lost sight of its commitment to academic excellence, one of the most important principles guiding our educational philosophy is that of balance, not just in the curriculum, but across the whole field of student experience. Rigorous study in one discipline, while important, should not be the whole of life; and this kind of unbalanced concentration on one aspect has perhaps been responsible in the past for the 'economic robot' jibes still sometimes heard in reference to the Japanese. Our goal is therefore to encourage students to develop interests and skills, academic and recreational, that will enable them to live harmonious, well-rounded lives, incorporating both social contribution and personal fulfilment.
This special approach to education, based on the philosophy of the school's founder, has resulted in a glowing record of achievement, and has helped to give Chukyo University an enviable reputation, both at home and abroad. Graduates of Chukyo, active not only in every area of Japan but throughout the entire world in the spheres of business, law, government, industry and sports, are living proofs of the University's standards of excellence.
Chukyo University, ever conscious of its responsibility to the community, offers many courses and lecture meetings open to the public, and established the Chukyo University Open College. In this and many other ways, Chukyo University is dedicated to fulfilling its social and educational mission in this twenty-first century.